K.I.D.S. NEW YORK
This past Sunday, your girl got to experience one of the best summer vibes that I've came across since moving to the city. K.I.D.S. (Kooking. Incredibly. Dope. Shit) New York, along with pastry chefsChef Nakai and Chef Janae , hosted their Summer Cookout in a very dope space in Brooklyn. Now, let me tell you the backstory on these Chefs. The "kids" who cook incredible dope shit was established in 2015, by Chef Brandon Gouveia and Chef Tyrik Smith. They set out to create a service whose priority is providing quality and creative cuisine in NYC." They are known to offer one of a kind services for your one of a kind events! Dope, right? Two black men, using their talents, creatively, to better themselves and help the community eat. Chef Jahlani Turner, owner of Chef Nakai Catering, has been in the culinary field since the age of 14. The summer cookout was thr second event that her company has sponsored and she is planning to expand. Currently, Jahlani is cooking up some new ideas for the future, no pun intended! So be sure to stay up to date with her events. Chef Janae is the true definition of following your dreams, no matter your background. With a degree in Music business and in pastry arts, Janae is using her passion to quench the sweet tooth of the world. She currently is working towards developing her own brand and taking things to the next level as far as her career. See, these are the type of things that the news "forget" to show us about our people. But no worries, I got it covered for now!
If you know me, then you know I love to be on time because I feel like I'm going to miss the action. So, when I first arrived, I literally was one of the first, outside of the event crew, to arrive. Lol. They were still getting things situated in the kitchen. So, Chef Brandon offered my friend and I a drink and one of these amazing liquor filled Popsicles and led us to the rooftop to chill with the other early guests. When I tell you the view was amazing, a picture won't do it justice. As the people started to trickle in the vibes started to grow. The people were cool. There was no sense of "I'm better than you, what do you do" type vibes; it honestly seemed like one big happy family and I loved it! I got to meet other bloggers, style connoisseurs and creatives. You know I'm always looking for good music and great vibes, so I was super happy when I got to meet Ty! Ty is the official creator of Boozy Bounce, which is a fusion of creole culture and New York city grit, in laymen terms, a popping ass day party! Their next event will take place on Sept. 30th, so mark your calendars. I'll definitely be there!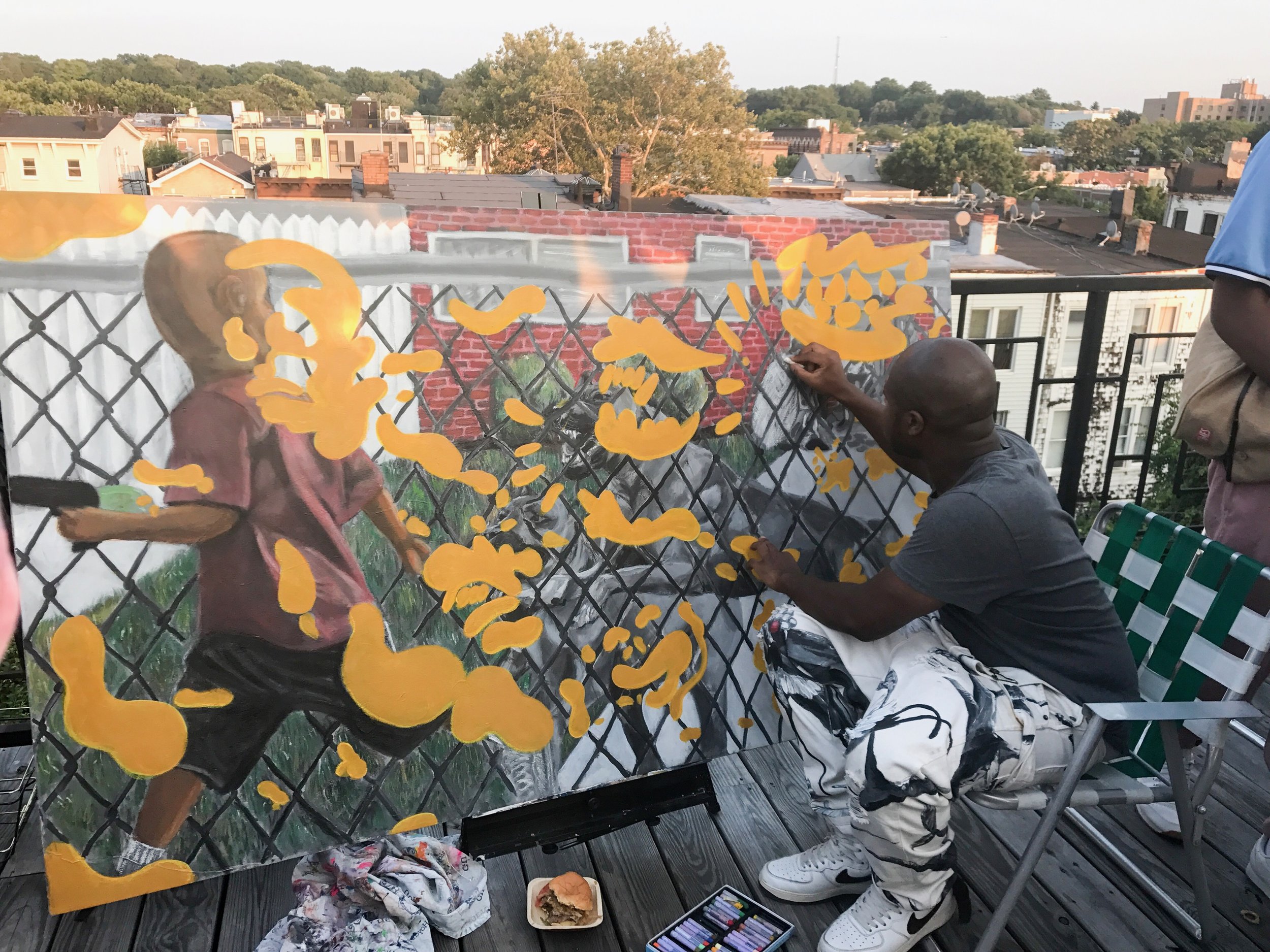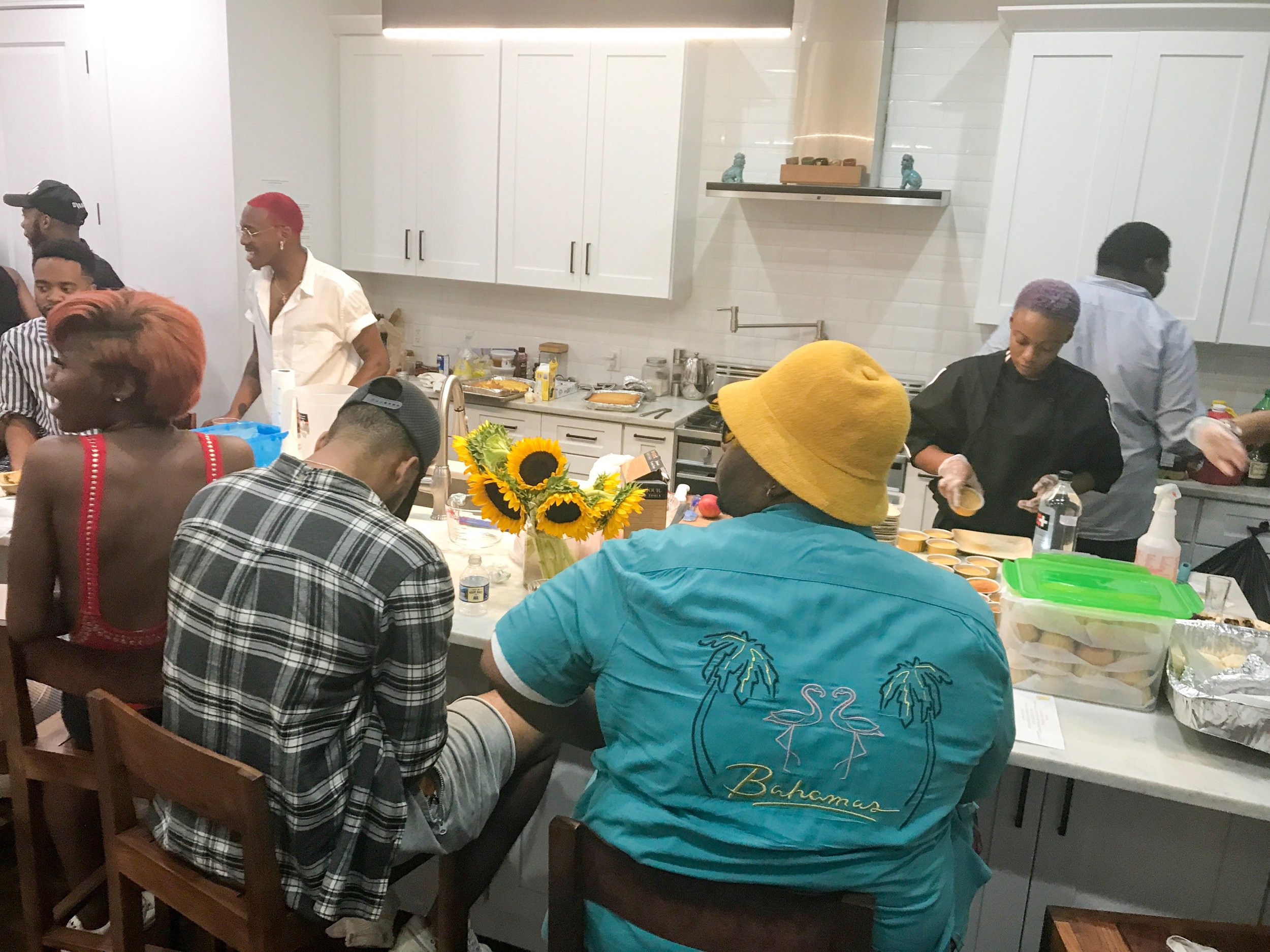 While we waited on the food, we vibed out, drank good and got to witness live painting by a well known artist Riek. The music played and then the food started pouring in. I wasn't able to grab a bite of everything on the menu but here is what I did get to try!
While I had about 3 mac + cheese pops, my favorite dish of the night would have to be the Hennessy burger. It was so juicy and flavorful! I definitely want to try and make my next turkey burgers like this!
Overall, the event was amazing. This experience is what I envisioned NYC to be like before I moved up. Now, to finally be here and get the chance to enjoy great vibes like this past Sunday, I don't know when I'll ever leave. Seriously, when I said earlier that everyone was dope, I meant it. I got the chance to speak with people in various industries who work with some pretty important people of our time today, and all of them were so down to earth. It was like a breath of fresh air. It was also inspiring, to see my people doing some pretty dope shit and making moves in their respective fields. Being a creative isn't easy, and can sometimes be intimidating. Yet, every single person I met showed me that if you work hard, be true to you, the blessings and greatness will definitely follow!
To K.I.D.S. New York, Chef Nkai + Chef Janae, I want to say thank you for such a dope experience. It definitely was one that will be remembered! Now you know what time it is. The time that we all love, the fashion!!! Everyone came out in their chill, yet dope attire and I was all over it with my Iphone 7+. Check out some of my favorite looks of the night below!